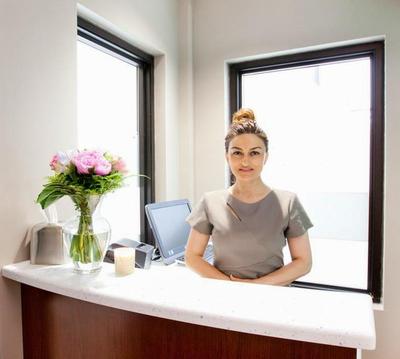 If you frequently visit Ani's, you'll agree that Anna is the real deal. She's hardworking, accommodating, gracious and obsessed with delivering outstanding treatments. For those of you who don't know Anna, she's the founder of Ani's Nail & Beauty Lounge. Through this Q & A, you'll get to know her philosophy and why you should stop by.

What new industry trends have emerged this year?

One of our treatments that has taken off well is the Curl Perfect Lash Lift. People are coming back for more! We've been doing a lot of those; people love it. It's quite natural - you don't have to wear makeup with it.

Is it a new treatment or just a new way of doing eyelashes?

It's been around for years. For us it's new, we've never done it before.

What treatment is Ani's known for?

Pedicures. People love their pedicures. You have to have perfect toes all of the time in Bermuda. Pedicures are almost a necessity. That's normally the first treatment you would book - pedicures or Brazilians. They're both necessities.

What makes Ani's unique?

The girls. Everyone is very loving and caring. We go out of our way for the clients. We make them feel comfortable, which is important.

Is the culture at Ani's a reflection of you?

Yes, definitely. I like to give everyone my best. I treat them equal.

How are customers protecting their skin in this heat?

We try to educate our clients on the importance of staying hydrated. We use our amazing Circadia sunblock for your face. It's labelled as a 37 but it's incredibly high; it's the equivalent to 97. Some people use it as a moisturizer.

We also recommend maintaining their skin with facials. Our Oxygen facial is one of our best sellers and recommended. It has coco enzymes and makes the skin feel nice and rejuvenated. We also introduced new facials with Circadia. One of them is the Marshmallow Whip Hydrating Mask. Everyone loves that one.

Why do you get so excited about Circadia products?

It's a great product. It's anti-aging and not too expensive compared to other products in the market. Circadia products are made by a doctor who is a dermatologist and they are packed with peptides, stem cells and enzymes which are great for your skin.

Should we see spa treatments as self-care instead of luxury?

Yes, I believe so. If you take care of your skin now, you can see the difference when you get older. It shouldn't be a luxury, it should be like going to the gym or drinking water. Skin is really important too.

What treatment would you recommend for skin damage?

Start with the Oxygen Rx Treatment and then continue with the mini Enzyme Facial a few weeks after. Going into the fall and winter you can repair the skin with Circadia Chemical Peels. We also have the SWiCH™ facial which is also good to use after the Oxygen Rx Treatment. It's great for cell turnover.

What's so special about the SWiCH™?

Like an actual switch, the SWiCH™ is like turning the light on for your skin. For example, if your skin is dark, damaged, has acne or problems in general, once you start doing the SWiCH™ it brightens your skin up - just like a bulb. It shows the difference right away. From one treatment, it resurfaces the skin and makes it even.

What is your favourite treatment and why?

Waxing. It's the instant gratification, the before and after effect. You feel so much better about yourself. You feel confident and good.

Does it hurt?

It does hurt, but everyone has a different pain tolerance. We try to be as gentle as we can. We use LYCON wax which is packed with a lot of ingredients which are well chosen. It grabs the hair which makes it less painful compared to others that grab the hair and the skin. It's very unique.